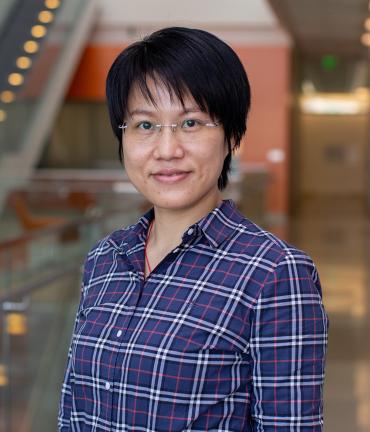 Lishi Li, PhD
Postdoctoral Scholar
As an incoming postdoctoral fellow in Dr. Lu's laboratory, my previous work was focused on the impact of A-to-I miRNA editing on T cells functions in peripheral blood and tumor microenvironment of Hepatocellular Carcinoma. I also investigated the heterogeneity of tumor microenvironment of metastatic melanoma, and the metastatic mechanism of circulating tumor cells (CTC) in melanoma with Single-cell sequencing.
My future work in Dr. Lu's Lab will focus on investigating the mechanism of immunosuppression that mediated by macrophage and NK cells in glioblastoma.
Other interests: reading, running, traveling 
 
Education
2006-2010: BS, Biological science, Guangxi Normal University
2010-2013: MS, Biochemistry and molecular biology, Guangxi Normal University
2011-2013: MS, Biochemistry and molecular biology, Suzhou Institute of Nano-Tech and Nano-Bionics, Chinese Academy of Science
2015-2019: PhD, Biochemistry and molecular biology, Sun Yat-sen University
Featured Publications
Msuite2: All-in-one DNA methylation data analysis toolkit with enhanced usability and performance
Lishi Li, Yunyun An, Li Ma, Mengqi Yang, Pengxiang Yuan, Xiaojian Liu, Xin Jin, Yu Zhao, Songfa Zhang*, Xin Hong*, Kun Sun*
Computational and Structural Biotechnology Journal. 2022, Mar 20(1):1271-1276. doi: 10.1016/j.csbj.2022.03.005.
Recent advances in blood-based and artificial intelligence-enhanced approaches for gastrointestinal cancer diagnosis
Lishi Li, Xiangyu Guo, Kun Sun*
World J Gastroenterol. 2021 Sep 14;27(34):5666-5681. doi: 10.3748/wjg.v27.i34.5666.
The landscape of miRNA editing in animals and its impact on miRNA biogenesis and targeting
Lishi Li#, Yulong Song#,  Xinrui Shi,  Jianheng Liu, Shaolei Xiong, Wanying Chen, Qiang Fu, Zichao Huang,  Nannan Gu*, and Rui Zhang*
Genome Res. 2018 Jan;28(1):132-143. doi: 10.1101/gr.224386.117.